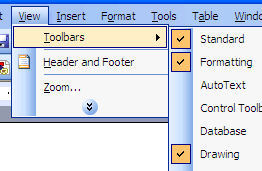 We need to make sure that all of us are looking at the same toolbars. You will want to use the "
Drawing
" toolbar today, so let's make sure you have it turned on.
1. Click "
View
" on the menu bar.
2. Choose "
Toolbars
"
3. Check to make sure "
Drawing
" is selected as shown on the right.